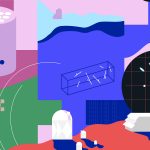 NEW
The building boom
These international projects, selected during the process to plan the future of US particle physics, are all set to come online within the next 10 years.
See all news
IN THE NEWS
Múons na arapuca
NEW
From FAPAESP's Pesquisa, Oct. 18, 2018: Em meados de setembro, partículas vindas do espaço começaram a atravessar um tanque em forma de cubo com 6 metros de altura, instalado na Cern, na Suíça, e deixar rastros de luz que foram captados por detectores criados no Brasil.
See all in the news
NEW
Items marked new were posted in the last 48 hours.