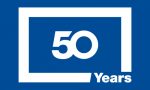 Fermilab is 50! For our birthday, we've set up an online guestbook for people to share their own thoughts, appreciations, discoveries, memories and boasts about the laboratory. All comments will be moderated.
You may leave a comment as a guest, or you can use a social media account (Disqus, Facebook, Twitter or Google account. One-time Disqus authentication is required).
So sign our guestbook, and leave your own impression on Fermilab's history.