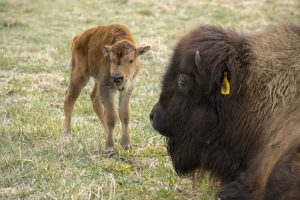 Warmer weather, baby bison and frequent school field trips bring more visitors to Fermilab, including Wilson Hall's 15th floor. Here are a few items to remember as we welcome people to our beautiful site this spring and summer:
If you see visitors in and around Wilson Hall, direct them to the atrium front desk so they can check in and learn about what do and see at the lab.
Avoid overcrowding Wilson Hall elevators. The maximum capacity for each elevator is 12 people. Please adhere to the maximum number to avoid the potential for service interruptions due to stalled elevators.
When driving, be mindful of bicyclers riding on paths and roadways.