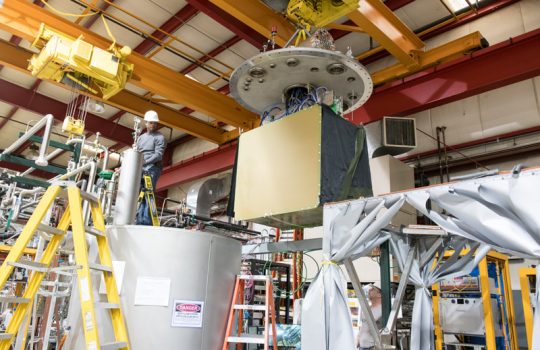 ICEBERG tests future neutrino detector systems with 'beautiful' results
Scientists are testing the components and systems for the international Deep Underground Neutrino Experiment, hosted by Fermilab, with other liquid-argon particle detectors. One such detector is ICEBERG, which is over 10,000 times smaller than DUNE will be. ICEBERG's measurements are providing insight for future neutrino experiments.
See all news
IN THE NEWS
New calculation refines comparison of matter with antimatter
From Brookhaven National Laboratory, Sept. 17, 2020: Brookhaven theorists publish an improved prediction for the tiny difference in kaon decays observed by experiments. Understanding these decays and comparing the prediction with more recent state-of-the-art experimental measurements made at Fermilab and CERN gives scientists a way to test for tiny differences between matter and antimatter.
Das flüchtigste aller Teilchen
From Spektrum, Sept. 16, 2020: Mit neuen Experimenten wollen Forscher herausfinden, ob es eine vierte Variante des Neutrinos gibt. Sollte sie existieren, könnte das Einblicke in den rätselhaften dunklen Sektor des Universums erlauben.
See all in the news
NEW
Items marked new were posted in the last 48 hours.