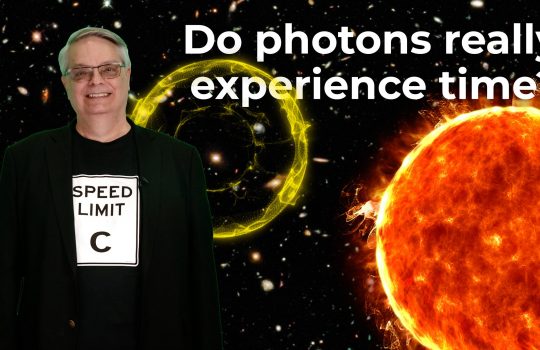 Do photons experience time?
In relativity theory, fast-moving clocks tick more slowly than slow-moving ones. The effect increases as one approaches the speed of light. But what happens at the speed of light? Do photons experience time? In this video, Don Lincoln lays out what we know about this interesting question.
See all news
IN THE NEWS
The muon g-2 experiment: insights into the unknown
From the Innovation News Network, May 31, 2023: Editor Georgie Purcell interviews Sean Foster, Research Scientist at Boston University, and Elia Bottalico, Postdoctoral Researcher at the University of Liverpool, who are both heavily involved on the Muon g-2 experiment. The g-2 collaboration scientists are in the final stages of data analysis for Runs 2 and 3 and are preparing to announce the results later this year.
Quarks and leptons are the smallest particles we know. Does something smaller exist?
From Big Think – Don Lincoln, May 26, 2023: The search for the smallest particles remains one of science's greatest pursuits. By today's measurements, quarks and leptons are the smallest known building blocks in nature, yet researchers wonder if perhaps quarks and leptons are built of even smaller things. Scientists and researchers continue to to look for smaller objects inside quarks and leptons using accelerators like CERN's Large Hadron Collider.
See all in the news