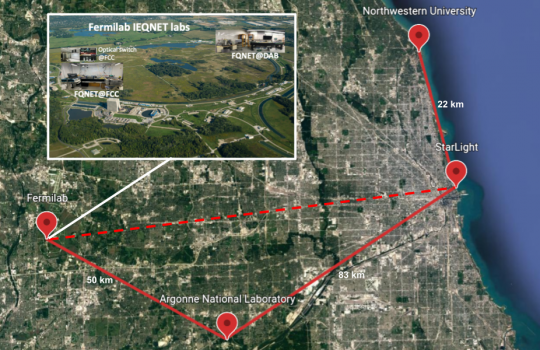 NEW
Nobel-winning experiment enables Fermilab-led quantum network
Anton Zeilinger, who received the 2022 Nobel Prize in Physics, pioneered research on quantum teleportation and entanglement swapping. These technologies are instrumental in the success of the Illinois-Express Quantum Network, which recently published a paper outlining its design concepts and implementation. The technologies are also the basis for the quantum devices that generate the network.
See all news
IN THE NEWS
'Ghostly' neutrinos provide new path to study protons
NEW
From Science Daily, Feb. 1, 2023: Yesterday, Nature posted new research which used a beam of neutrinos for the first time to investigate the structure of protons. With Fermilab's MINERvA detector, scientists were able to precisely measure the proton's size and structure using neutrinos with data gathered from thousands of neutrino-hydrogen scattering events.
See all in the news