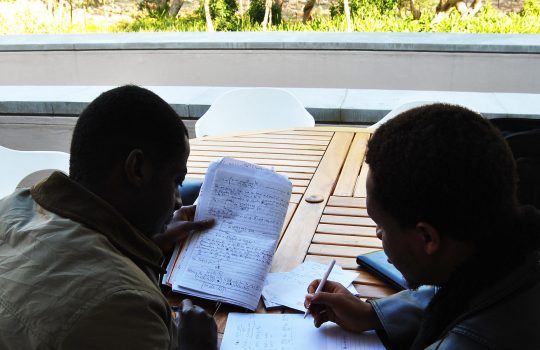 NEW
Building up the African physics community
Since 2010, the African School of Fundamental Physics and Applications has provided education to hundreds of students. The ASP is a three-week summer program for university-level students from across the continent of Africa. Participants learn about nuclear and particle physics, astrophysics and cosmology, accelerator physics, high-performance computing, quantum information and more. For some students, it's the first time they hear about some of these topics.
See all news
IN THE NEWS
Three physicists stumbled upon a striking mathematical discovery
NEW
From The Atlantic, Nov. 17, 2019: Describing neutrino oscillations is notoriously tricky. The search for a shortcut by Fermilab physicist Stephen Parke, University of Chicago physicist Xining Zhang and Brookhaven National Laboratory physicist Peter Denton led to unexpected places. They ended up discovering an unexpected relationship between some of the most ubiquitous objects in math.
€7m grant to explain particle physics
NEW
From Scitech Europa, Nov. 15, 2019: Researchers at the University of Manchester in the UK have been given a €7m grant from the UK Research and Innovation's Science and Technology Facilities Council to support the university's particle physics program for three years. The money supports, in part, participation in the international Deep Underground Neutrino Experiment, hosted by Fermilab.
See all in the news
NEW
Items marked new were posted in the last 48 hours.