Throughout 2017 we will celebrate our achievements and look forward to the next 50 years at the forefront of science and technology. We will reconnect with past colleagues and friends and engage new partners that will be critical for our future success.
The list of 50th anniversary events at the lab for Fermilab employees, users and the public is below. It may continue to grow as groups across the lab organize additional events and activities. Fermilab will also participate in events off site throughout 2017.
Events open to the public are listed at 50.fnal.gov.
Colloquium: Fermilab and the Foundations of the Standard Model
Wednsday, Jan. 11, 4 p.m.
Scientist Dan Green discusses Fermilab's leadership in the exploration of the Standard Model throughout its 50-year history. Now exploration beyond the Standard Model is the future, with Fermilab hosting DUNE and CERN hosting the High-Luminosity LHC. This event is free.
All-hands meeting to kick off 50th anniversary year
Thursday, Jan. 12, 10:30 a.m.
Nigel Lockyer hosts the first employee all-hands meeting of 2017 in recognition of the laboratory's 50th birthday. A presentation in Ramsey Auditorium will be followed by cupcakes and coffee in the atrium.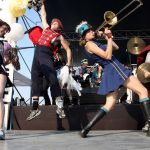 Arts Series concert and kickoff party
Saturday, Jan. 21, 7 p.m.
Join us for a special event that features Mucca Pazza, preceded by birthday cake and hands-on activities. Tickets are required.
Annual Family Open House
Sunday, Feb. 12, 1 p.m.
The Fermilab Family Open House is a party for children of all ages to learn about the world of physics.
PechaKucha Night Batavia
Thursday, Feb. 16, 7 p.m.
Fermilab hosts PechaKucha Night Batavia, which is an informal and fun gathering where creative people get together and share their ideas, works, thoughts in the PechaKucha format: 20 slides, 20 seconds each.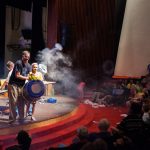 Annual Wonders of Science show
Sunday, March 19, 1 p.m.
Watch amazing science demonstrations at our annual Wonders of Science show. Tickets are required.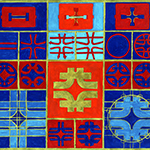 Angela Gonzales art exhibit opening reception
Thursday, June 1, 5 p.m.
Fermilab founding director Robert Wilson hand-picked artist Angela Gonzales to help create a visual identity for Fermilab. "A Lasting Mark: Artist Angela Gonzales at Fermilab, 1967-1998" showcases her bold, inspiring work over 31 years at the lab. The exhibit will run from June 1 to Sept. 30.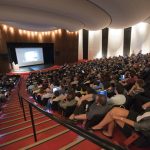 50th Anniversary Symposium and 50th Users Meeting
Wednesday-Thursday, June 7-8
Fermilab invites scientists from around the world to gather and discuss the lab's achievements and plans for the future. More information and registration page will be posted in spring 2017.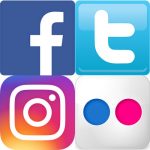 Fermilab's 50th birthday: A social media celebration
Thursday, June 15
Fermilab's was the third website in the United States. So what better way to recognize our birthday than with an online celebration? Join us through social media to celebrate Fermilab's 50th birthday. It was on June 15, 1967, that the lab's first employees reported to work in an office in Illinois.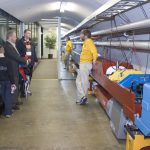 Open House
Saturday, Sept. 23, 10 a.m.-4 p.m.
We hope to make this Fermilab's biggest-ever public event. Contact Andrea Heeg (aheeg@fnal.gov, x2237) for more information.
Labwide party
Late 2017
A labwide party will conclude our 50th anniversary celebration.