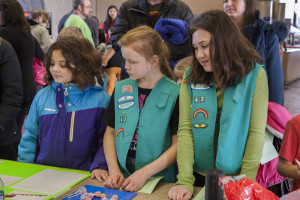 The Family Open House is one of the most popular annual events hosted by the U.S. Department of Energy's Fermi National Accelerator Laboratory. This year's event will take place on Feb. 9 from 1 to 5 p.m. in Wilson Hall. It will include activities for the whole family, from hands-on science exhibits to tours of some of the lab's attractions – including the massive electromagnet that was brought to Fermilab last summer.
Highlights of the Open House include a series of performances by the always-popular Jerry Zimmerman as Mr. Freeze, demonstrating the (very) cool effects of liquid nitrogen. About a dozen scientists will be ready to answer questions on the 15th floor of Wilson Hall, and while you're there, you can check out the spectacular view of Fermilab's site and the surrounding area. In the atrium, families can enjoy a "physics carnival," including interactive exhibits by students from three local schools: Naperville Central High School, Carl Sandburg High School in Orland Park and Francis W. Parker School in Chicago.
Tours of the Linear Accelerator and Main Control Room will be given throughout the day. Attendees can also sign up for a special tour of the Muon g-2 electromagnet, which made a spectacular 3,200-mile journey from New York to Illinois last summer. (For more on that, go here: muon-g-2.fnal.gov/bigmove.) This tour includes a brief presentation and lasts 75 minutes, with departures from Wilson Hall at 1:15 p.m., 2 p.m. and 2:45 p.m.
These tours will fill up fast, so those who want in should register quickly at http://ed.fnal.gov/openhouse. There are a limited number of seats available, and standbys will be accepted.
No registration is required to attend the Family Open House. More than 2,000 people are expected to attend this year's event.
"We want to get kids doing activities that get them excited about science," said Spencer Pasero, education program leader at Fermilab. "We want them to come in, have fun and think about science as something they could do."
The Family Open House is made possible by an anonymous donor to the nonprofit organization Fermilab Friends for Science Education.
Fermilab is America's premier national laboratory for particle physics research. A U.S. Department of Energy Office of Science laboratory, Fermilab is located near Chicago, Illinois, and is operated under contract by the Fermi Research Alliance LLC. Visit Fermilab's website at www.fnal.gov, and follow Fermilab on Facebook at www.facebook.com/fermilab and on Twitter @FermilabToday.
The DOE Office of Science is the single largest supporter of basic research in the physical sciences in the United States and is working to address some of the most pressing challenges of our time. For more information, please visit science.energy.gov.