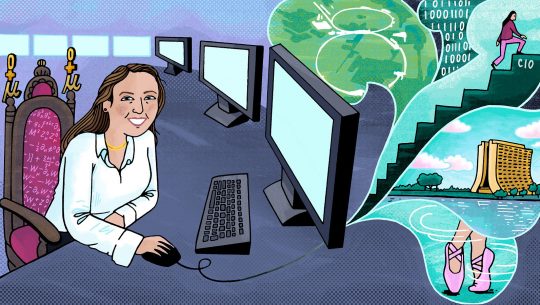 Fermilab's Liz Sexton-Kennedy talks to Symmetry about her lifelong drive to learn and how it led to her current role as chief information officer for Fermilab. Jim Daley spoke to Sexton-Kennedy about her experiences in STEM, her career at Fermilab and a bit about herself.
Fermilab is America's particle physics and accelerator laboratory. Our vision is to solve the mysteries of matter, energy, space and time for the benefit of all.
Fermilab in the news
From FAPESP, Feb. 13, 2019: Uma parte vital de um dos maiores experimentos da física de partículas atual foi desenvolvida no Brasil. O Arapuca é um detector de luz a ser instalado no Deep Underground Neutrino Experiment — projeto que busca descobrir novas propriedades dos neutrinos, partícula elementar com muito pouca massa e que viaja a uma velocidade muito próxima à da luz.
From Aurora Beacon-News, Fermilab scientists and engineers are hoping to understand neutrinos — tiny particles that many feel hold the key to answering many questions about the universe — and are using a very large thermometer to do it.
From 365 Days of Astronomy, Feb. 9, 2019: In this podcast, The Dark Energy Survey started in 2013 to map dark energy over 5000 square degrees of sky. Writer and poet Amy Catanzano visited Cerro Tololo Inter-American Observatory during the Dark Energy Survey. In this podcast, Amy discusses her work in quantum poetics, her experience with the Dark Energy Survey and shares some of her poetry.
Featured videos