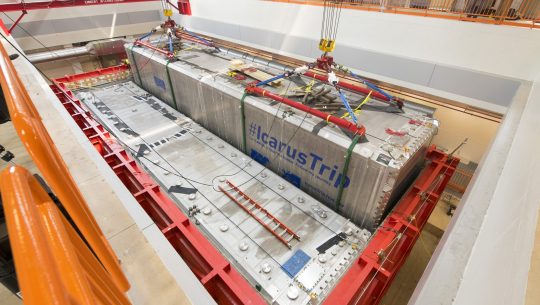 ICARUS now sits in the path of Fermilab's neutrino beam, a milestone that brings the detector one step closer to taking data.
Fermilab is America's particle physics and accelerator laboratory. Our vision is to solve the mysteries of matter, energy, space and time for the benefit of all.
Fermilab in the news
From STFC, Aug. 15, 2018: STFC has appointed Dave Newbold of the University of Bristol, who has been leading the data acquisition design for DUNE, as new director of its Particle Physics Department.
From Agencia FAPESP, Aug. 8, 2018: A longstanding partnership between the Brazilian scientific community and Fermilab is getting stronger, thanks in part to FAPESP's research funding programs.
From WBBM Newsradio: Aug. 6, 2018: Fermilab has preliminary approval for its plan to upgrade its particle accelerator, which uses streams of neutrinos for a wide variety of physics research, by the middle of the next decade.
Featured videos