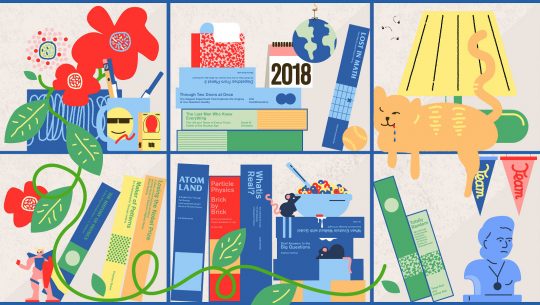 Symmetry writer Mike Perricone presents his annual compilation of new popular science books related to particle physics and astrophysics. The array that Symmetry readers might have encountered in 2018 ranges from the philosophical to the whimsical.
Fermilab is America's particle physics and accelerator laboratory. Our vision is to solve the mysteries of matter, energy, space and time for the benefit of all.
Fermilab in the news
From Futurism, Dec. 11, 2018: No matter how confident we are that it's out there, dark matter continues to evade our brightest physicists. Now, yet another experiment designed to pick up on signs of dark matter's presence has turned up nothing at all. Fermilab's Dan Hooper comments on results from the COSINE-100 experiment.
From Berkeley Lab, Dec. 4, 2018: Key components of Berkeley Lab's Dark Energy Spectroscopic Instrument are installed after months of planning, prep work. A team at Fermilab built the corrector, hexapod, and other top-end support structures. The structures are designed to align the lenses with an accuracy of tens of microns (millionths of a meter) – similar to the width of the thinnest human hair.
From Tech Princess, Dec. 5, 2018: L'Italia firma l'accordo internazionale di collaborazione scientifica e tecnologica con gli Stati Uniti per la realizzazione del PIP-II, un nuovo acceleratore lineare di protoni per l'esperimento DUNE
Featured videos