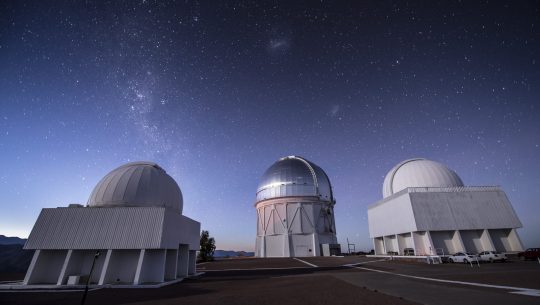 Scientists on the Dark Energy Survey announced the public release of their first three years of data. This first major release of data includes information on about 400 million astronomical objects.
Fermilab is America's particle physics and accelerator laboratory. Our vision is to solve the mysteries of matter, energy, space and time for the benefit of all.
Fermilab in the news
From New Scientist, Jan. 11, 2018: Fermilab scientist Dan Hooper is quoted in this piece about the possible origins of a potential source of dark matter in the cosmos.
From The Beacon-News, Jan. 9, 2018: National laboratories should continue to bring in talent from across the world to advance understanding of science and promote global outreach, U.S. Secretary of Energy Rick Perry said Tuesday during a speech to employees at Batavia's Fermi National Accelerator Laboratory.
From Kane County Chronicle, Jan. 10, 2018: In a folksy, down-home talk at Fermi National Accelerator Laboratory near Batavia Jan. 9, U.S. Energy Secretary Rick Perry presented himself as an advocate for the Department of Energy's 17 national laboratories and the expansion of science on a global scale.
Featured Videos