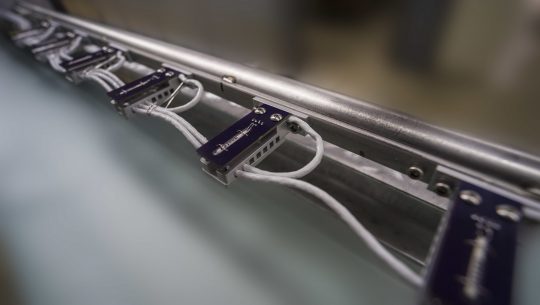 How do you calibrate a probe that is sealed inside a giant liquid-argon neutrino detector?
Fermilab is America's particle physics and accelerator laboratory. Our vision is to solve the mysteries of matter, energy, space and time for the benefit of all.
Fermilab in the news
From The Chicago Maroon, Nov. 12, 2018: Fermilab Chief Research Officer Joe Lykken appears in this overview of the Nov. 8-9 Chicago Quantum Summit.
From University of Portsmouth Institute of Cosmology and Gravitation, Nov. 10, 2018: Researchers have analyzed new Dark Energy Survey data to provide one of the most accurate measurements of the Hubble constant to date.
From WDCB's First Light, Nov. 11, 2018: On the surface, it may seem a little strange for a high level research center to turn to the veteran community as a resource for new workers. For Fermilab, it's been a perfect match. Listen to the 11-minute segment.
Featured videos