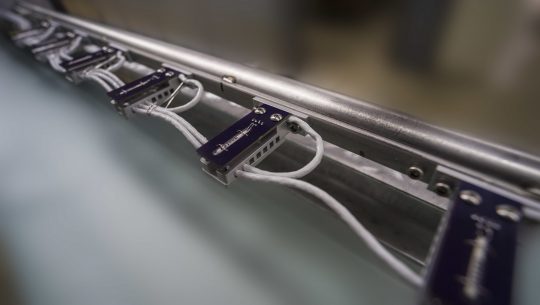 How do you calibrate a probe that is sealed inside a giant liquid-argon neutrino detector?
Fermilab is America's particle physics and accelerator laboratory. Our vision is to solve the mysteries of matter, energy, space and time for the benefit of all.
Fermilab in the news
From Inside Science, Nov. 20, 2018: Fermilab scientist Charles Thangaraj appears in this fun article on the use of accelerators to cross-link materials, including the plastic that wraps around your Thanksgiving turkey.
From CNN, Nov. 20, 2018: Fermilab scientist Don Lincoln talks about a stellar stream called S1, which consists of nearly 100 stars of similar age and composition, orbiting the Milky Way in a direction exactly opposite that of normal stars.
From 9 to 5 Google, Nov. 15, 2018: The LHC's massive physics experiments will require computing capacity that is an estimated 50-100 times higher than today. Google finds the challenge exciting and has already been working with Fermilab and Brookhaven National Laboratory to store and analyze data from the LHC using the Google Computer Engine.
Featured videos