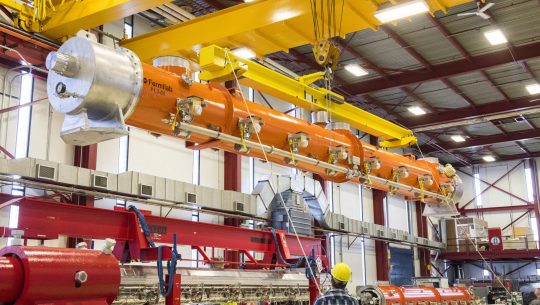 A Fermilab team built and tested the first new superconducting accelerator cryomodule for the LCLS-II project, which will be the nation's only X-ray free-electron laser facility.
Fermilab is America's particle physics and accelerator laboratory. Our vision is to solve the mysteries of matter, energy, space and time for the benefit of all.
Fermilab in the news
From Naperville Community Television, Jan. 14, 2018: The former governor and two-time presidential hopeful recently toured Fermilab and spoke to a packed auditorium of scientists who work at the national laboratory – a laboratory Perry called a jewel of the United States.
From the UK's Science and Technology Facilities Council, Jan. 16, 2018: A UK team has just completed their first prototype anode plane assembly, the largest component of the DUNE detector, to be used in the ProtoDUNE detector at CERN.
From New Scientist, Jan. 11, 2018: Fermilab scientist Dan Hooper is quoted in this piece about the possible origins of a potential source of dark matter in the cosmos.
Featured Videos