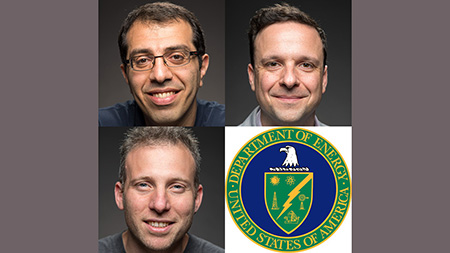 The award is designed to bolster the nation's scientific workforce by providing support to exceptional researchers during the crucial early years, when many scientists do their most formative work.
Fermilab is America's particle physics and accelerator laboratory. Our vision is to solve the mysteries of matter, energy, space and time for the benefit of all.
Fermilab in the news
From Physics World, June 7, 2018: The best evidence yet that muon antineutrinos can change into electron antineutrinos has been found by the NOvA experiment.
From Science News, June 6, 2018: Fusion may have a dark side. A shadowy hypothetical process called "dark fusion" could be occurring throughout the cosmos, suggests a new study by Fermilab scientist Sam McDermott.
From WTTW's Chicago Tonight, June 5, 2018: A team of physicists announced findings that could reveal the existence of a mysterious new type of particle known as a sterile neutrino. The finding by Fermilab's MiniBooNE happens to come with several Chicago connections.
Featured videos