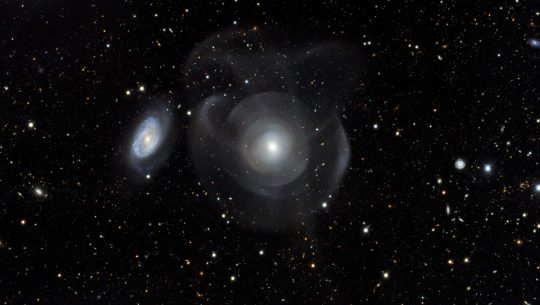 The international collaboration, including Fermilab, the National Center for Supercomputing Applications, NOIRLab and others, releases a massive, public collection of astronomical data and calibrated images from six years of surveys. This data release is one of the largest astronomical catalogs issued to date.
Fermilab is America's particle physics and accelerator laboratory. Our vision is to solve the mysteries of matter, energy, space and time for the benefit of all.
Fermilab in the news
From Forbes, Jan. 22, 2021: Fermilab scientist Don Lincoln describes recent findings of scientists studying an unexplained excess of hard X-rays emanating from neutron stars. The explanation for the excess could lie in a hypothesized dark matter candidate called the axion.
From Forbes, Jan. 19, 2021: Fermilab scientist Don Lincoln contextualizes the discovery of the most distant (and therefore oldest) supermassive black hole found thus far, which is 10 trillion times brighter than our sun.
From ENR, Jan. 18, 2021: The upcoming two-story Integrated Engineering Research Center will provide Fermilab staff and users with highly modular, flexible working environment. In its plan, the architecture team sought to maximize flexibility for wherever science may take particle physics over the next 50 years.
Featured videos