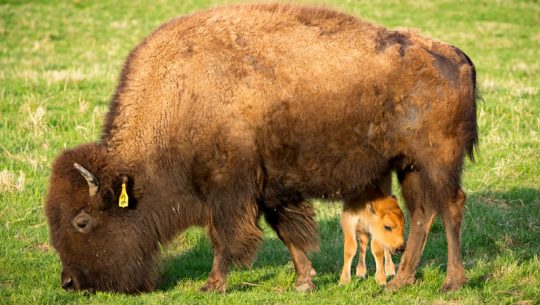 On Saturday, April 20, baby bison season officially began. The first calf of the year was born in the early morning hours, and mother and baby are doing well. Fermilab is expecting between 12 and 14 new calves this spring, and all of our neighbors are welcome to come on site to see and photograph the newborns.
Fermilab is America's particle physics and accelerator laboratory. Our vision is to solve the mysteries of matter, energy, space and time for the benefit of all.
Fermilab in the news
From the Chicago Tribune, April 23, 2019: Over the weekend, the first baby bison of the spring was born to the herd at Fermilab. Fermilab may be known for its cutting-edge scientific work, but its first director, Robert Wilson, always wanted to be reminded of his home in Wyoming where he lived before moving to Batavia, and so he brought bison with him.
From WBBM Newsradio, April 23, 2019: A baby bison was born Saturday at Fermilab — the first baby born this year. Fermilab expects between 12 and 14 new calves this spring. The new baby, and its mother, are doing well.
From Physics World, April 23, 2019: Fermilab Archivist Valerie Higgins discusses how the contributions of support staff should not be forgotten when it comes to celebrating scientific breakthroughs. Modern scientific research is often conducted through large organizational structures and thousands of participants. For archivists and others interested in the history of scientific research, developing a complete picture requires an understanding not only of the work that scientists and technical staff do but also the contributions of support staff too.
Featured videos