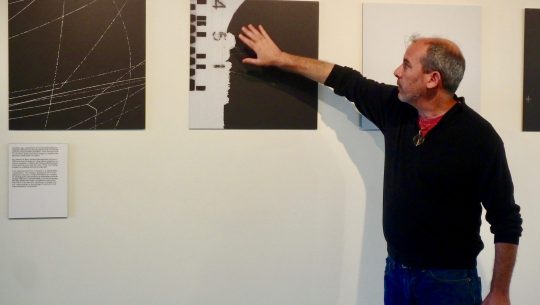 In the world of particle physics, scientists work with tiny, invisible particles, tracking their collisions and interactions with one another. But what if you could render them as music? What would these songs of the subatomic sound like? Adam Nadel, Fermilab's 2018 artist-in-residence, worked with scientists at Fermilab and set out to do just that. Read on to hear his music.
Fermilab is America's particle physics and accelerator laboratory. Our vision is to solve the mysteries of matter, energy, space and time for the benefit of all.
Fermilab in the news
From Medium, July 19, 2019: Hunting for dark matter, neutrinos, and other elusive signals isn't just a satisfying endeavor, it's a way of life for ProtoDUNE scientist Laura Manenti.
From Kelo, July 19, 2019: Fermilab's Patrick Weber and others talk about the international, Fermilab-hosted Deep Underground Neutrino Experiment and its Long-Baseline Neutrino Facility in this 8-minute video. Sanford Underground Research Facility is home to the DUNE far detector, and the world-leading research taking place at there is giving scientists from a variety of disciplines a wealth of information about the universe, the geology of the region and life underground.
From Kelo, July 10, 2019: Fermilab's Bonnie Fleming talks about neutrinos, the international, Fermilab-hosted DUNE and and LBNF in this 9-minute video on the research taking place one mile underground in Lead, South Dakota, at the Sanford Underground Research Facility.
Featured videos