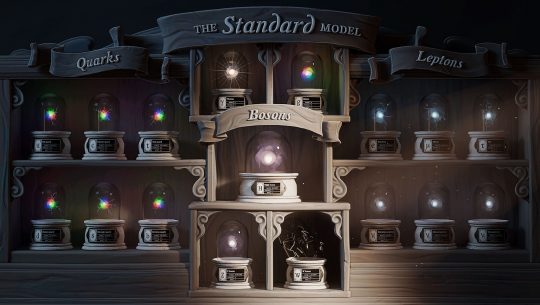 The CDF experiment at Fermilab measured the mass of the W boson and came up with an answer that no one expected.
Fermilab is America's particle physics and accelerator laboratory. Our vision is to solve the mysteries of matter, energy, space and time for the benefit of all.
Fermilab in the news
From Nature Italy May 20, 2022: CDF co-spokesperson Giorgio Chiarelli tells the story of how Italy contributed to the measurement of the W boson mass, opening a door on new physics. For more than 10 years after the Tevatron detector at Fermilab produced the last crashes between protons and antiprotons, the collaboration announced the most precise measure of the W boson mass ever achieved.
From the Nature Briefing, May 13, 2022: Based on data recorded with the CDF II detector at Fermilab between 2002 and 2011 at the Tevatron, the collaboration reconstructed more than 4 million W boson candidates through their decays into an electron or muon accompanied by the respective neutrino. The CDF Collaboration stated their result "suggests the possibility of improvements to the standard model calculation or of extensions to it".
From USA News Hub, May 10,2022: The Dark Energy Camera on the Víctor M. Blanco 4-meter Telescope, one of the most powerful cameras in the world just photographed two distant galaxies entwined in what's been described as a "galactic ballet." Read more about these amazing new images captured by the DECamera developed and tested at Fermilab.
Featured videos