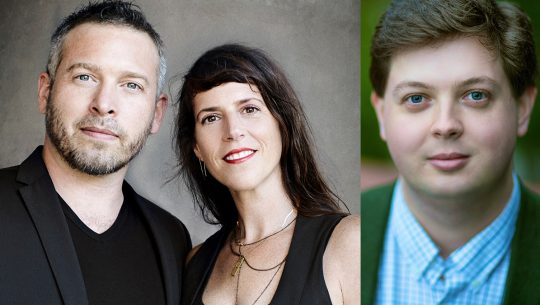 Continuing the yearly induction of a new artist-in-residence each year, Fermilab is welcoming a pair of artists and the lab's first guest composer to the lab in 2020.
Fermilab is America's particle physics and accelerator laboratory. Our vision is to solve the mysteries of matter, energy, space and time for the benefit of all.
Fermilab in the news
From Scientific American, February 2020: Collaborators from eight institutions have come together to turn a mine shaft at Fermilab into the world's largest atom interferometer — MAGIS-100. The researchers plan to assemble the instrument in 2021 and start harnessing lasers to expand submicroscopic strontium atoms into macroscale "atom waves" soon after. Fermilab scientist Rob Plunkett comments on the mind-boggling experiment.
From SLAC, Jan. 13, 2020: Matching up maps of matter and light from the Dark Energy Survey, hosted at Fermilab, and Fermi Gamma-ray Space Telescope may help astrophysicists understand what causes a faint cosmic gamma-ray glow.
From PBS Space Time, Jan. 6, 2020: Why is there something rather than nothing? The answer may be found in the weakest particle in the universe: the neutrino. In this 10-minute video, PBS Space Time host Matt O'Dowd and Fermilab scientist Don Lincoln explore the mysteries of the neutrino and how Fermilab is tackling them. The elusive neutrino may hold powerful secrets, from the unification of the forces of nature to the biggest question of all: Why is there something rather than nothing?
Featured videos