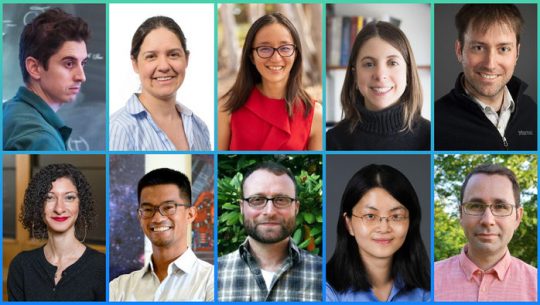 Right now could be considered one of the best — and most uncertain — times in theoretical physics. That's what Symmetry heard in interviews with 10 junior faculty in the field. They talk about what keeps them up at night, their favorite places to think and how they explain their jobs to nonscientists.
Fermilab is America's particle physics and accelerator laboratory. Our vision is to solve the mysteries of matter, energy, space and time for the benefit of all.
Fermilab in the news
From Duke Today, July 17, 2019: Teams behind the 1995 discovery are recognized for first observations of tiny but hefty particle at the heart of matter.
From CNN, July 16, 2019: On the occasion of the 50th anniversary of the moon landing, Fermilab scientist Don Lincoln talks about the past, present and future of spaceflight. There is no denying the allure of manned space travel. It tugs at our imagination. Ironically, we must both temper our imagination and dream even bigger.
From Physics World, June 12, 2019: Physics World posts a video recorded inside the ProtoDUNE neutrino detector by the particle physicist and vocalist Anastasia Basharina-Freshville, who sing-explains why the noble gas is used to detect the elusive particles.
Featured videos