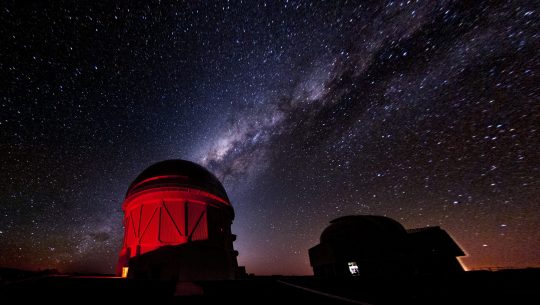 The Dark Energy Survey collaboration has created the largest ever maps of the distribution and shapes of galaxies, tracing both ordinary and dark matter in the universe out to a distance of over 7 billion light years. The analysis, which includes the first three years of data from the survey, is consistent with predictions from the current best model of the universe, the standard cosmological model. Nevertheless, there remain hints from DES and other experiments that matter in the current universe is a few percent less clumpy than predicted.
Fermilab is America's particle physics and accelerator laboratory. Our vision is to solve the mysteries of matter, energy, space and time for the benefit of all.
Fermilab in the news
From the California News Times, June 9, 2021: There is a new robotics project at Fermilab called Argonaut and its mission is to sail into a sea of liquid argon kept at minus 193 degrees Celsius to monitor the condition inside the ultra-low temperature particle detector.
From CERN, June 15, 2021: A new study shows a class of new unknown particles that could account for the muon's magnetism, known as leptoquarks, also affects the Higgs boson's transformation into muons.
From the Dallas Morning News, June 13, 2021: The results of the April 7 Muon g-2 result strongly disagreed with the standard model and it is incumbent upon us now to explain this observation, writes Stephen Sekula, chair of physics and an associate professor of experimental particle physics at Southern Methodist University.
Featured videos