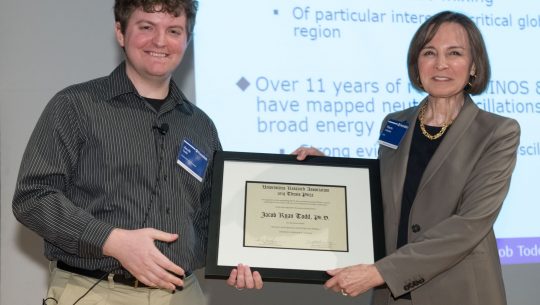 In his doctoral thesis, Todd details a method for data analysis in a way that minimizes a source of bias in some particle physics experiments. By analyzing information from two distant detectors simultaneously rather than sequentially, he incorporated the lack of precision knowledge in both detectors. A University of Cincinnati graduate, Todd used data from Fermilab's MINOS and MINOS+ experiments, and his analysis can be applied in other neutrino research as well.
Fermilab is America's particle physics and accelerator laboratory. Our vision is to solve the mysteries of matter, energy, space and time for the benefit of all.
Fermilab in the news
From CNN, June 12, 2019: Fermilab scientist Don Lincoln writes about a moon mass mystery: In a recent study, scientists claim they have discovered a huge and unexpected mass buried deep underneath the moon's surface.
From Back Reaction, June 13, 2019: The so-called muon g-2 anomaly is a tension between experimental measurement and theoretical prediction. The most recent experimental data comes from a 2006 experiment at Brookhaven National Lab. A new experiment is now following up on the 2006 result: The Muon g-2 experiment at Fermilab.
From The Beacon-News, June 9, 2019: A recent Sunday afternoon in Batavia gave parents and children the chance to experience animal and plant life as the Fermilab held its 11th annual Family Outdoor Fair. The event included more than a dozen outdoor activities, ranging from viewing the herd of bison that live on the property to scooping up insect and pond creatures and invertebrates with nets.
Featured videos