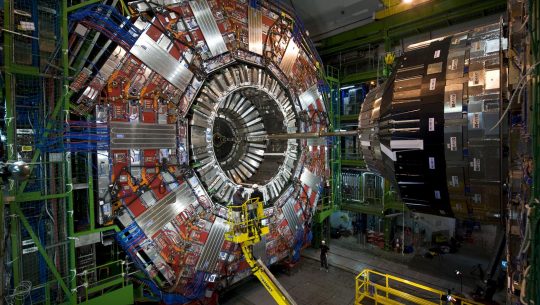 A new machine learning technology tested by Fermilab scientists and collaborators can spot specific particle signatures among an ocean of LHC data in the blink of an eye, much faster than standard methods. Sophisticated and swift, its performance gives a glimpse into the game-changing role machine learning will play in making future discoveries in particle physics as data sets get bigger and more complex.
Fermilab is America's particle physics and accelerator laboratory. Our vision is to solve the mysteries of matter, energy, space and time for the benefit of all.
Fermilab in the news
From SDPB Radio, July 26, 2019: Fermilab Director Nigel Lockyer's full interview for "Morning Fill-Up" is now available on the South Dakota Public Broadcasting site. In the 58-minute recording, Lockyer discusses neutrinos, the Deep Underground Neutrino Experiment, the Long-Baseline Neutrino Facility and Sanford Underground Research Facility and his own journey in science.
From Texas Tech Today, Aug. 5, 2019: Texas Tech physicists have been looking for dark matter at the CMS experiment at CERN and studying neutrinos.
From Science News, Aug. 8, 2019: It's a news flashback. Science News excerpts a bit on the Fermilab Bubble Chamber from their August 16, 1969, issue. "Use by visitors is expected to be especially large at the National Accelerator Laboratory now under construction at Batavia, Ill…. NAL staff and consultants agree that the laboratory will need a large bubble chamber, and it now plans to build one in collaboration with Brookhaven National Laboratory."
Featured videos