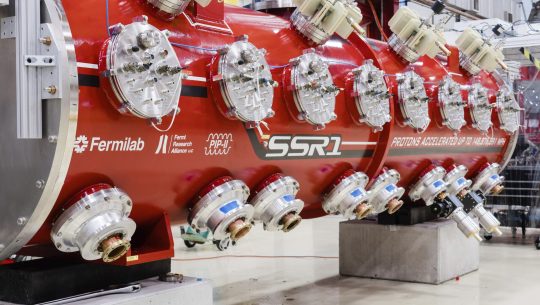 A Fermilab team has completed tests for a crucial superconducting segment for the PIP-II particle accelerator, the future heart of the Fermilab accelerator chain. The segment, called a cryomodule, will be one of many, but this is the first to be fully designed, assembled and tested at Fermilab. It represents a journey of technical challenges and opportunities for innovation in superconducting accelerator technology.
Fermilab is America's particle physics and accelerator laboratory. Our vision is to solve the mysteries of matter, energy, space and time for the benefit of all.
Fermilab in the news
From Reccom Magazine, Feb. 26, 2021: Chuck Brown of the Fermilab SeaQuest research team is quoted and Fermilab is mentioned for their ongoing work and contributions to the SeaQuest and NuSea experiments.
From UChicago News, Feb. 26, 2021: The University of Chicago's Board of Trustees has named Paul Alivisatos as the university's 14th president. An accomplished leader in higher education and a world-renowned scientist, Alivisatos is currently executive vice chancellor and provost at the University of California, Berkeley. He is also a professor and the former director of the Lawrence Berkeley National Laboratory.
From Diario Libre, Feb. 24, 2021: Fermilab and partners achieve quantum teleportation over 22 kilometers. Further development of quantum teleportation would allow the development of a high-fidelity and high-speed quantum internet.
Featured videos