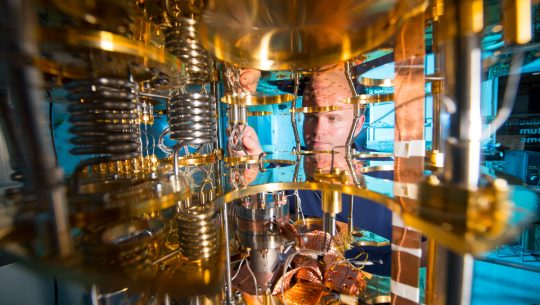 One of the most difficult problems to overcome in developing a quantum computer is finding a way to maintain the lifespan of information held in quantum bits, called qubits. Researchers at Fermilab and Argonne National Laboratory are working to determine whether devices used in particle accelerators can help solve the problem. The team will run simulations on high-performance computers that will enable them to predict the lifespan of information held within these qubits using smaller versions of these devices, taking us one step closer to the age of quantum computing.
Fermilab is America's particle physics and accelerator laboratory. Our vision is to solve the mysteries of matter, energy, space and time for the benefit of all.
Fermilab in the news
From Physics World, Feb. 24, 2020: The editor of Physics World lists the Long-Baseline Neutrino Facility as one of the top 10 facilities to watch in the coming decade.
From Interactions.org, Feb. 24, 2020: In view of progress toward the realization of the International Linear Collider in Japan, the International Committee for Future Accelerators encourages the interested members of the high-energy physics community, laboratories and nations to support and participate in these preparations aimed at the successful establishment of the ILC.
From Kane County Chronicle, Feb. 24, 2020: Join Fermilab scientist emeritus Paul Mantsch at the St. Charles Public Library on Tuesday, Feb. 25, at 7 p.m. as he explains how the realms of the atom and the cosmos are intimately connected to each other – and to us. This special presentation will feature the story of discovery at Fermilab: past, present, future.
Featured videos