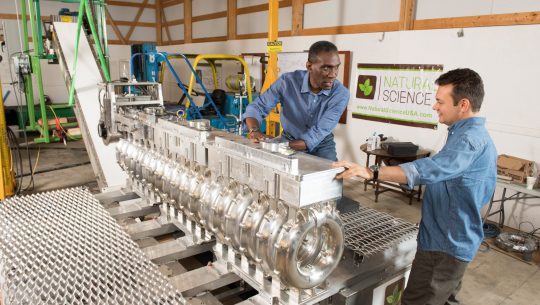 What began as an experiment in a nine-ounce cup of water has been developed into a full-scale technology that recently became a finalist for a 2019 R&D 100 Award. Achieving the honor was E-MOP™ — electromagnetic oil spill remediation technology — developed from patents owned by Fermilab. The technology uses materials that are environmentally safe, reusable and natural.
Fermilab is America's particle physics and accelerator laboratory. Our vision is to solve the mysteries of matter, energy, space and time for the benefit of all.
Fermilab in the news
From The Atlantic, Nov. 17, 2019: Describing neutrino oscillations is notoriously tricky. The search for a shortcut by Fermilab physicist Stephen Parke, University of Chicago physicist Xining Zhang and Brookhaven National Laboratory physicist Peter Denton led to unexpected places. They ended up discovering an unexpected relationship between some of the most ubiquitous objects in math.
From Scitech Europa, Nov. 15, 2019: Researchers at the University of Manchester in the UK have been given a €7m grant from the UK Research and Innovation's Science and Technology Facilities Council to support the university's particle physics program for three years. The money supports, in part, participation in the international Deep Underground Neutrino Experiment, hosted by Fermilab.
From WDCB's First Light, Nov. 17, 2019: It's hard to imagine the number of experiments that have been conducted and the discoveries made at Fermilab over its more than 50-year history. Fermilab photographer Reidar Hahn, who had rare access to many of those tests and scientific advances for more than 30 years of the lab's life, is preparing to step down. Hear what Hahn, Fermilab Director Nigel Lockyer and Fermilab Art Gallery curator Georgia Schwender have to say about Hahn's work in this 14-minute piece.
Featured videos