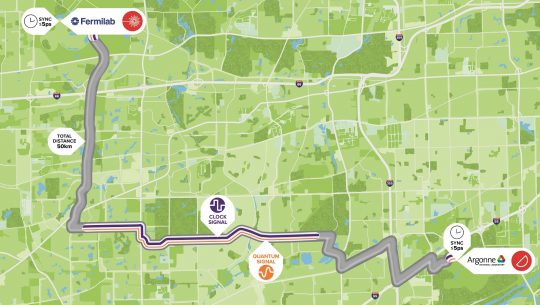 Quantum collaboration demonstrates in Chicagoland the first steps toward functional long-distance quantum networks over deployed telecom fiber optics, opening the door to scalable quantum computing.
Fermilab is America's particle physics and accelerator laboratory. Our vision is to solve the mysteries of matter, energy, space and time for the benefit of all.
Fermilab in the news
From the DOE National QIS Research Centers, July 5. 2022: In this video series, scientists affiliated with the U.S. Department of Energy National Quantum Information Science Research Centers presented an overview of quantum information science to Congressional staff in May 2022. The event, titled Quantum Information Science for Everyone, hosted presenters who discussed quantum research, its potential impacts, and the importance of U.S. leadership in this burgeoning area of science and engineering.
From Higgs10.org, June 28, 2022: This year marks the 10th anniversary of the announcement of the discovery of the Higgs Boson – the result of an unprecedented global collaboration. To mark occasion, the Interactions collaboration is publishing a new version of Quantum Diaries – with some original bloggers, and some newer physicists inspired by the historic discovery. Fermilab scientists are part of the mix.
From The Big Think, June 29, 2022: Fermilab's Don Lincoln highlights the 10 year anniversary of the Higgs boson, what we have learned in the past decade and what the next ten years of research and discovery may bring.
Featured videos