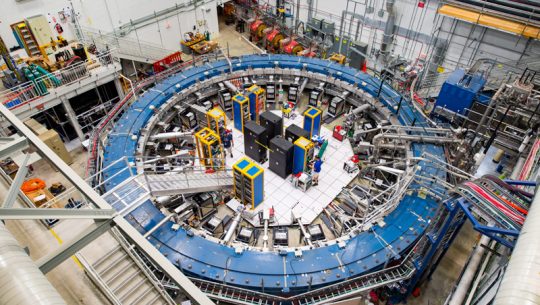 The first results from the Muon g-2 experiment hosted at Fermi National Accelerator Laboratory show fundamental particles called muons behaving in a way not predicted by the Standard Model of particle physics. These results confirm an earlier experiment of the same name performed at Brookhaven National Laboratory. Combined, the two results show strong evidence that our best theoretical model of the subatomic world is incomplete. One potential explanation would be the existence of undiscovered particles or forces.
Fermilab is America's particle physics and accelerator laboratory. Our vision is to solve the mysteries of matter, energy, space and time for the benefit of all.
Fermilab in the news
From Science News, April 14, 2021: Black and Hispanic workers remain underrepresented while it varies widely by field for women. Fermilab's Jessica Esquivel is interviewed in this story on the Pew Research report that shows ethnic and gender gaps in STEM professions.
From The 21st NPR Illinois, April 14, 2021: Fermilab scientist Brendan Kiburg discusses the Muon g-2 result with host Brian Mackey on the 21st Illinois talk show.
From U Chicago News, April 13, 2021: Scientists at the U.S. Department of Energy's Fermi National Accelerator Laboratory and the University of Chicago have demonstrated a new technique based on quantum technology that will advance the search for dark matter, which accounts for 85% of all matter in the universe.
Featured videos