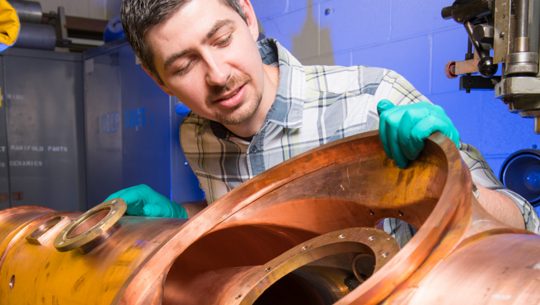 A Michigan-based foundry was recently given an award for its casting of a prototype of a Fermilab particle accelerator component. Their method, which uses a 3-D-printed casting mold, allows for an economical approach to creating accelerator parts and could lead to significant cost savings in component fabrication.
Fermilab is America's particle physics and accelerator laboratory. Our vision is to solve the mysteries of matter, energy, space and time for the benefit of all.
Fermilab in the news
From KOTA TV, May 20, 2019: Fermilab's Patrick Weber and Sanford Lab's Mike Headley talk with the South Dakota news program about the Deep Underground Neutrino Experiment and the Long Baseline Neutrino Facility in this 3-minute segment.
From Physics World, May 16, 2019: Fermilab scientist Vladimir Shiltsev is quoted in this article on the European Strategy for Particle Physics symposium.
From Construction Equipment Guide, May 15, 2019: Fermilab's Chris Mossey and Doug Pelletier talk about the international Deep Underground Neutrino Experiment, hosted by Fermilab, and the Long-Baseline Neutrino Facility, much of which will be built in the extensive maze of caverns at the former Homestake gold mine in South Dakota's beautiful Black Hills. The site is being transformed into a laboratory designed to unlock the mysteries of some of the smallest particles in the universe, neutrinos.
Featured videos