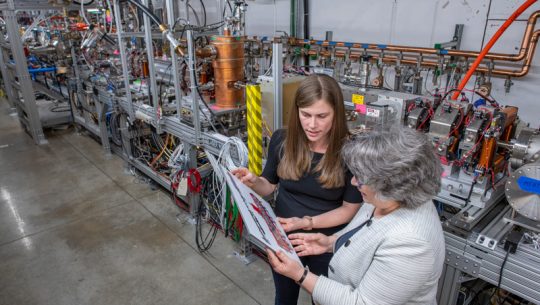 This spring testing wrapped up at the PIP-II Injector Test Facility, or PIP2IT. The successful outcome paves the way for the construction of PIP-II, a new particle accelerator that will power record-breaking neutrino beams and drive a broad physics research program at Fermilab for the next 50 years.
Fermilab is America's particle physics and accelerator laboratory. Our vision is to solve the mysteries of matter, energy, space and time for the benefit of all.
Fermilab in the news
From Portable TV, I Don't Understand, July 18, 2021: William Shatner interviews Saskia Charity of Fermilab on what is a muon and the meaning of the Muon g-2 experiment result.
From CNN, July 19, 2021: Fermilab senior scientist Don Lincoln explores the rise and fascination with commercial space exploration by billionaires and "space tourism."
From The Daily Herald, July 15, 2021: Dr. Caren Cooper of North Carolina State University will lead the Fermilab At Home arts and lecture series Friday, July 16, with "Life, Liberty, and the Pursuit of Data: Truths and Myths about Citizen Science as a Knowledge Democracy.
Featured videos