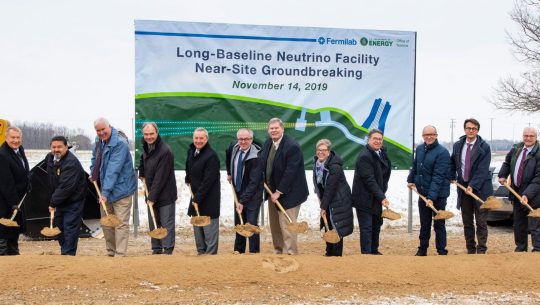 With a ceremony held today, Fermilab joined with its international partners to break ground on a new beamline that will help scientists learn more about ghostly particles called neutrinos. The beamline is part of the Long-Baseline Neutrino Facility, which will house the Deep Underground Neutrino Experiment, an international endeavor to build and operate the world's most advanced experiment to study neutrinos.
Fermilab is America's particle physics and accelerator laboratory. Our vision is to solve the mysteries of matter, energy, space and time for the benefit of all.
Fermilab in the news
From Physics World, Nov. 13, 2019: In her new book "Fire, Ice and Physics: the Science of Game of Thrones," Rebecca C Thompson, head of the Office of Education and Public Outreach at Fermilab, analyzes "Game of Thrones" fan theories by looking at actual physics.
From Science, Nov. 12, 2019: Three years ago, a team of particle astrophysicists appeared to nix the idea that a faint glow of gamma rays in the heart of our Milky Way galaxy could be emanating from dark matter. But the conclusion that the gamma rays come instead from more ordinary sources may have been too hasty, the team reports in a new study. So the dark matter hypothesis may be alive and well after all. Fermilab scientist Dan Hooper is quoted in this article.
From Northwestern University, Nov. 8, 2019: Northwestern and Fermilab researchers, including Fermilab scientists Anna Grassellino and Alexander Romanenko, show how impurities can increase the maximum accelerating field of superconducting radio-frequency cavities, a finding with huge potential cost advantages.
Featured videos