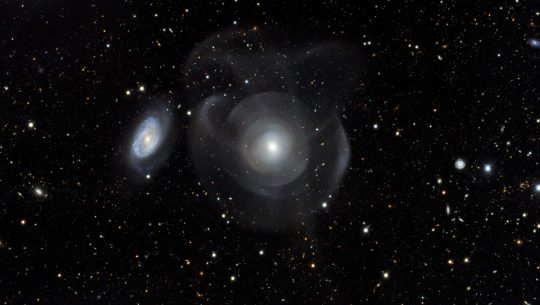 The international collaboration, including Fermilab, the National Center for Supercomputing Applications, NOIRLab and others, releases a massive, public collection of astronomical data and calibrated images from six years of surveys. This data release is one of the largest astronomical catalogs issued to date.
Fermilab is America's particle physics and accelerator laboratory. Our vision is to solve the mysteries of matter, energy, space and time for the benefit of all.
Fermilab in the news
From Forbes, Jan. 14, 2021: The Dark Energy Survey recently publicly released an enormous amount of data for anyone to use. This data set contains nearly seven hundred million individual astronomical objects. Fermilab scientist Don Lincoln explains how collaborators on the Dark Energy Survey study the history of the universe and highlights a number of the scientific findings in DES's rich trove of data.
From CERN Courier, Jan. 13, 2021: The US LHC Accelerator Upgrade Project, led by Fermilab scientist Giorgio Apollinari, is now entering the production phase in the construction of magnets for the upcoming High-Luminosity LHC, an upgrade of the current Large Hadron Collider. U.S. labs are building magnets that will focus beams near the ATLAS and CMS particle detectors.
From Forbes, Jan. 11, 2021: Fermilab scientist Don Lincoln explains a result from the LHCb experiment that adds another data point on nature's matter-antimatter imbalance.
Featured videos