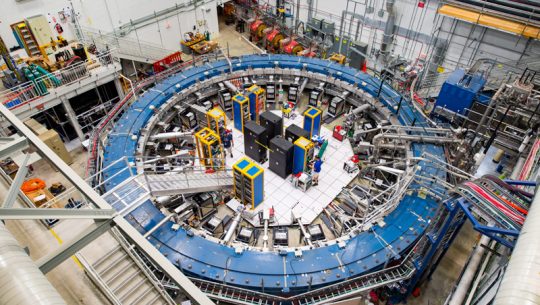 The first results from the Muon g-2 experiment hosted at Fermi National Accelerator Laboratory show fundamental particles called muons behaving in a way not predicted by the Standard Model of particle physics. These results confirm an earlier experiment of the same name performed at Brookhaven National Laboratory. Combined, the two results show strong evidence that our best theoretical model of the subatomic world is incomplete. One potential explanation would be the existence of undiscovered particles or forces.
Fermilab is America's particle physics and accelerator laboratory. Our vision is to solve the mysteries of matter, energy, space and time for the benefit of all.
Fermilab in the news
From Pioneering Minds, April 20, 2021: Qubits will help advance the search for dark matter, as co-authored in a paper by Fermilab's Aaron Chou.
From Northern Public Radio, April 20, 2021: Fermilab's Rebecca Thompson, Head of the Office of Education and Public Outreach, talks on this segment about STEM and its impact on our society.
From WBEZ, April 20, 2021: Fermilab's Brendan Casey is interviewed about the Muon g-2 experiment and the result announced earlier in April.
Featured videos