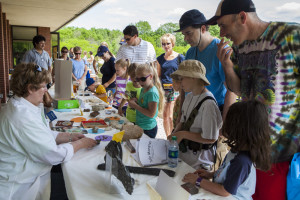 What could be better than spending a fun-filled day outdoors and learning about natural science at the same time?
For the eighth year in a row, Fermi National Accelerator Laboratory is inviting families and scout troops to attend the Family Outdoor Fair on Sunday, June 14, from 1-4 p.m. The fair takes place outside the Lederman Science Center and highlights the plant and animal life found on the 6,800-acre Fermilab site in Batavia.
More than a dozen outdoor activities are planned for the fair, including a prairie scavenger hunt, a visit with Fermilab's herd of bison and a performance by "Earth Singer" Dave Orleans. Kids can test whether they can run as fast as a bison, sweep for insects and other critters and, thanks to the Naperville Astronomical Association, safely get a long look at the sun.
Once again, the Northern Illinois Raptor Rehabilitation and Education Center, along with local raptor trainers, will be on hand with live hawks, falcons and owls, as well as a collection of bird bones, feathers and hunting gear for children to enjoy.
"We want kids to come away with an appreciation of nature," said Sue Sheehan of the Fermilab Education Office. "There's so much to see. We want to show kids and parents that science is everywhere, even in their own back yards."
Of course, their back yards aren't quite as vast as Fermilab's. More than 1,000 acres of the laboratory site is restored natural prairie, and the U.S. Department of Energy has designated Fermilab a National Environmental Research Park.
The Family Outdoor Fun Fair is geared for first- through seventh-grade students. The fair is free and will take place rain or shine. Media is welcome to attend. No registration is required. For more information, call 630-840-5588 or email edreg@fnal.gov.
Fermilab is America's premier national laboratory for particle physics and accelerator research. A U.S. Department of Energy Office of Science laboratory, Fermilab is located near Chicago, Illinois, and operated under contract by the Fermi Research Alliance LLC. Visit Fermilab's website at www.fnal.gov and follow us on Twitter at @Fermilab.
The DOE Office of Science is the single largest supporter of basic research in the physical sciences in the United States and is working to address some of the most pressing challenges of our time. For more information, please visit science.energy.gov.