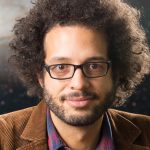 Nord and a University of Chicago scientist will apply the tools of artificial intelligence to accelerate discovery by automating the design and execution of cosmic experiments. The grant is part of an initiative to provide seed funding for collaborative projects in AI and quantum science between the university, Fermilab and Argonne National Laboratory.
From UChicago News, July 25, 2019: The University of Chicago is seeding promising projects with Argonne National Laboratory and Fermilab in the emerging fields of artificial intelligence and quantum science.
Fermilab scientist Brian Nord is one of the grant recipients.