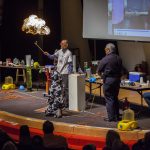 If you know kids between the ages of 7 and 12, you know how hard it can be to get them excited about science from a textbook. Children love to be wowed and to experience physical phenomena with eyes wide and jaws dropped. That's the thinking behind Fermilab's annual Wonders of Science show, which will take place on Sunday, March 10, at 1 p.m. The show, organized and performed by award-winning high school teachers, is celebrating its 32nd year at Fermilab. Tickets are $5.00 per person.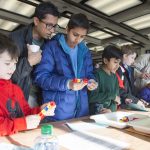 Fermilab's Family Open House is a chance for the whole family to spend an afternoon learning about science in a hands-on way and have fun doing it. This year's event, running from 1-5 p.m. on Sunday, Feb. 10, will feature the Great Neutrino Hunt, live physics demonstrations, a memorial to Leon Lederman, and several activities for kids and their parents to enjoy.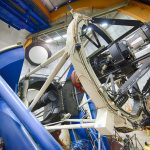 After scanning in depth about a quarter of the southern skies for six years and cataloguing hundreds of millions of distant galaxies, the Dark Energy Survey will finish taking data on Jan. 9. DES scientists recorded data from more than 300 million distant galaxies. More than 400 scientists from over 25 institutions around the world have been involved in the project, hosted by Fermilab. The collaboration has already produced about 200 academic papers, with more to come.